Heart of the Home
Gemma Copsey, of Knights Country Kitchens, reflects on decades in business, how designs have evolved and why their Essex/Suffolk location suits them just nicely.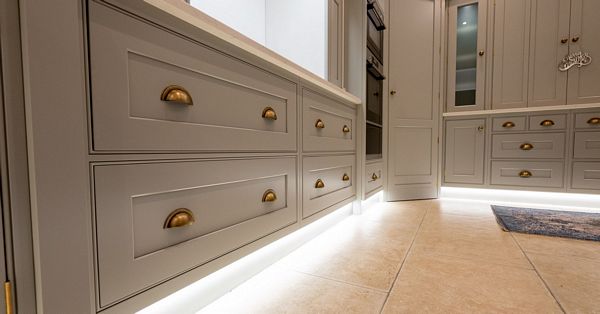 Q How different does the business look now compared to back in 1976?
A The business has changed and grown in many aspects, from how designs are presented to our clients from pencil sketches to now 3D computer images. The biggest difference, though, would be the style of kitchen produced in the 80s, it was all pine furniture with Iroko worktops. Will pine make a comeback?
Q How has our approach to kitchens changed over the last five decades?
A More is expected from a kitchen. It is the place within any home which is not only for creating food dishes for the family, but a place of which we congregate as a family or with friends to socialise and relax.
Q For any business to last for nearly 50 years is some achievement. Why do you think Knights Country
Kitchens has been so successful?
A In one word I would say 'passion'. Being a family-run business with long standing craftsmen, we all have a passion and care for each individual handcrafted kitchen created for each client's requirements.
Q Today, what services do you offer?
A To design, manufacture and install bespoke kitchens with continued support and guidance to all aspects. With this we are able to offer a full service to support our clients with everything from preparation to the room, through to flooring and appliances.
Q How important do you think it is the fact you are still family-run?
A I feel it has great importance and reassurance to potential clients as they can feel an element of trust and loyalty from us to achieve the best by them.
Q Who in the family still works in the business?
A Myself and Hayley are in the office, designing and bringing to life people's dreams. Lance is in the spray shop ensuring that every kitchen leaves us how we would desire it to be in our own homes. Michael and Jan, the founders of the company – "The Parents" – have taken a back seat, but are always on hand for support and guidance when needed.
Q What kind of kitchens do you typically create?
A All our kitchens are framed and produced with traditional techniques. The most desired look at present is a simple shaker painted kitchen.
Q How does a process of creating one start with a client?
A We like to visit our clients at their homes to be able to get a more personal feel and discuss any design ideas at the property. Likewise we are always more than happy to welcome clients to our showroom in Clare.
Q Do you have a couple of recent kitchen projects in Essex that stand out for any reason?
A We have many kitchens that stand out for many reasons, from vibrant colour choice, to a complete room transformation due to design and new layouts. A favourite of ours from last year would be a project in Radwinter, which on our initial meeting at the property our client was planning an extension for a new kitchen space. After some discussions with our client and confirmation from a builder, we advised an alternative option working within the current house footprint by removing walls to achieve a more spacious and workable kitchen/dining open plan living space.
Q Do you see particular trends in 2022 for kitchens?
A We can see that there will be a comeback for detail and appreciation to craftsmanship detail, such as
fluted columns, and we see aged brass fittings and door latches returning.
Q How does the interiors furniture side of your business work?
A Very much like our kitchens: we are happy to discuss client's requirements and specification.
Q I mentioned Essex above, how long have you had a display in Debden as well as your main showroom/office in Clare?
A We have proudly had our kitchen display feature at Debden Barns for nearly 15 years.
Q What do you love about your location?
A Being very central on the Suffolk/Essex border, we have a wide audience of customers who have a desire to support local and small independent companies.
Q What else does 2022 hold in store for Knights Country Kitchens?
A We are hoping to, amongst our busy upcoming year of projects, to complete a new office and workshop/showroom in Clare to display more examples of our bespoke furniture to inspire visitors.
Blog courtesy of Absolutely Magazines 2022.