Simple & Sleek Kitchen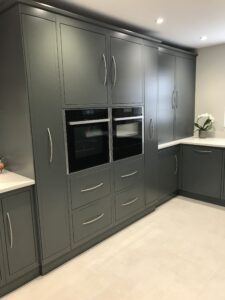 When we decided to refigure our kitchen, we knew what we wanted to achieve but could not have dreamed about how much we would love it. Gemma and Hayley understood our needs and wants for our kitchen space and created a gorgeous family hub that fits our lifestyle beautifully.
From the moment we visited the showroom you could see the quality of the workmanship and knew nothing we had seen compared and that they would achieve the kitchen we truly wanted. Every step of the process from design, followed up by extremely high quality finish and fitting was first class. We were expertly guided through every decision we needed to make as part of the design or throughout the installation.
Thank you all!
Mr. & Mrs. G - Clare, Suffolk