Say Hello to the New Quooker™ Flex Hot Tap
Say Hello to the New Quooker™ Flex Hot Tap. Visit us at our Showroom in Clare, Suffolk to see it in action. Bespoke handmade kitchens. The Flex is the latest innovation from Quooker™ and is now in situ at our Clare Showroom for you to see.  The Flex is a boiling hot water tap with a flexible pull out hose for hot, cold and optional filtered cold water.  The innovative design of The Flex means it is very easy to rinse and clean the sink.

The Flex is also extremely safe when installed in family kitchens.  Thanks to the boiling water stop, The Flex will not dispense boiling water when the pull out hose is pulled out.  In order to get boiling water, you must also first use the double push and turn handle.  This ensures no risk of scalding or burning.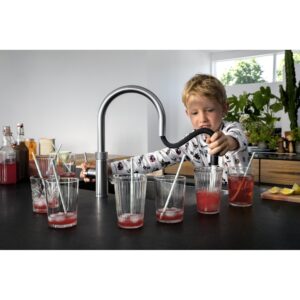 The flex is available in a round style and can be finished in polished chrome or true stainless steel with a three litre water tank.
The specs…
Dispenses hot, cold and 100°C purified water from a single spout when connected to a hot & cold supply
Flexible pull out hose
Can be converted to a 4-in-1 model with the addition of the optional Cold Water Filter kit
Childproof double-push-and-turn textured handle with light ring
Highly energy efficient
HiTAC water filter
Stainless steel 3 litre tank
Vacuum insulation
Standby power consumption 10w
Power 1600w
Heat up time from cold 10 minutes
10 bar maximum pressure
Pressure relief valve
Ceramic water shut off valve
High temperature activated carbon water filter with 5 year lifespan
Say Hello to the New Quooker™ Flex Hot Tap, bespoke kitchens, handmade kitchens, boiling water tap, essex, cambridgeshire, suffolk, hertfordshire